歡迎任何有興趣人仕出席!
2013-08-02 10:56:26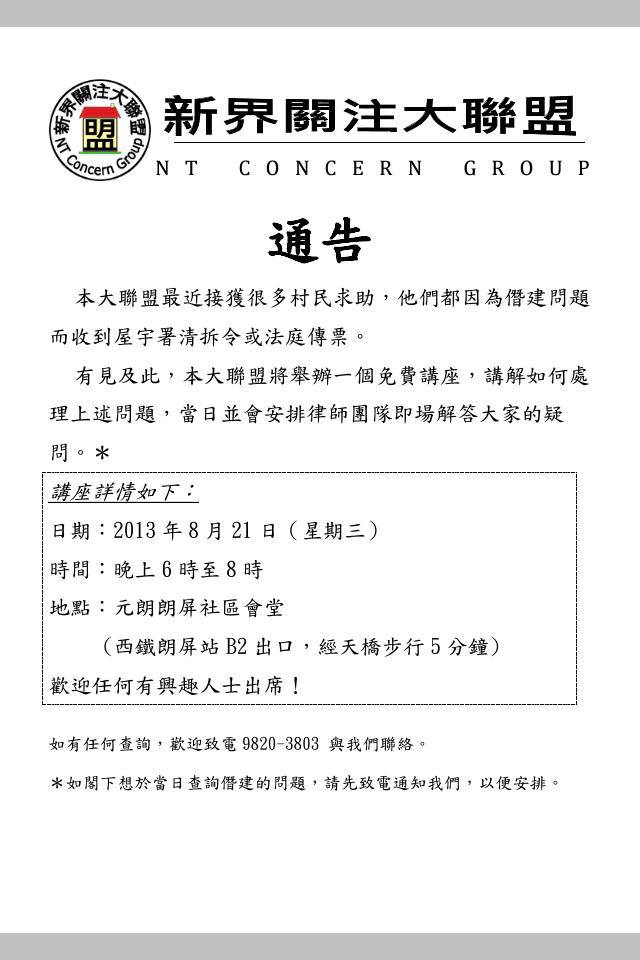 NOTICE
The NT Concern Group has recently been sought out for assistance by the Local Villagers. The assistance is in relation to Unauthorised or Illegal structures and the receipt of Removal Orders or Court summons.
For those seeking assistance or those who are interested, they are warmly invited to a free session hosted by the NT Concern Group. This session will explain how to deal with the above matter. There will be a group of lawyers on hand to answer your questions. *
Details of the free session:
Date:
21st August 2013 (Wednesday)
Time:
6pm to 8pm
Venue:

Ping Shan Community Hall, Yuen Long

(Exit B2 at Ping Shan station, West Rail- 5 minute walk via footbridge)
All interested parties are welcome to attend!
For any queries, please feel free to call 9820-3803 to speak to us.
*If you wish to ask questions about Unauthorized/ Illegal Structures at the Free Session, please call us so that we may prepare some answers.