20130821 新界僭建物免費法律講座
2013-09-03 12:30:55
20130821 新界僭建物免費法律講座
為了讓市民知道收到屋宇署清拆令後可以選擇的行動,大聯盟於8月21日舉辦了一場免費的法律講座,並邀請了匯蝶公益的律師團隊,為市民提供簡短的法律意見。
是次講座由大聯盟的鄧鎔耀主席的歡迎辭揭開序幕,解釋大聯盟的由來及演變。而副主席曾樹和先生向在場人士報告大聯盟過去一年的工作,當中提及到大聯盟反對佔領中環行動。曾副主席重申,不支持任何以暴力的手段來達到政治目的。
接下來,何君堯律師講解有關村屋僭建物的法律問題。大聯盟認為,政府對村屋僭建物執法的法理基礎不合理。第一,小型屋宇一直由地政署審批,依附在小型屋宇的加建物應由地政署處理,而不是屋宇署越俎代庖。第二,政府推出的申報計劃,將同樣犯法的市民分先後處理,明顯出現執法不公,違反法治精神。
何律師接著又解釋市民如收到屋宇署的清拆令,可以從行政程序及司法程序中,保障自己的利益,甚至以空間換取時間。在講座的尾聲,何律師聯同匯蝶公益的律師一起解答參加者的法律問題,令每一位在場的參與者都能解決心中疑惑。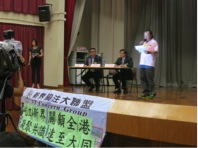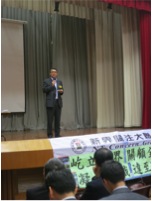 兩位主席在場發言
何君堯律師講座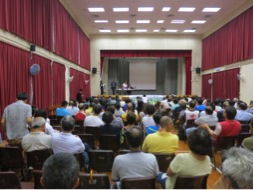 現場座無虛席,過百名市民為自己家園細心聆聽
21st August 2013 – New Territories Free Legal Advice Talk
In order to help the local community understand the options available to them after receiving demolition notices from the Housing Department, the Concern Group held a free legal advice talk on 21st August and invited a team of pro-bono lawyers from the Butterflyers Association to provide free legal advice.
The talk began with a welcome message from the Chairman of the NT Concern Group, Mr. Tang Yung Yiuwho explained the aims and establishment of the group. The Vice-Chairman of the NT Concern Group Mr.Tsang Shu Wo then provided a report on the work accomplished by the NT Concern Group during the past year to those present. The Vice-Chairman also expressed his views against the use of violence to achieve political ends.
Afterwards, Mr. Junius Ho, a Hong Kong Solicitor, explained to the villagers about the legal problems in relation to the New Territories Unauthorised Building Works, the Concern Group believes that the Government's legal enforcement against villagers is unreasonable and without basis. Firstly, Small Houses have always been approved by the Lands Department and therefore Unauthorised Building Works should also be dealt with by the Lands Department and not the Housing Department. Secondly, the Government's Reporting Scheme is only dealing with those villagers who have registered for Unauthorised Building Works first before all others which show obvious unfairness and violation of ones rights and the rule of law.
Mr. Ho then explained to the villagers that if they received the demolition notice they can go through administration procedures and judicial procedures to protect their own rights and even use this opportunity to buy time. Nearing the end of the talk Mr. Ho and a team of pro-bono lawyers from the Butterflyers Association provided legal advice to the participants which resolved their problems.